Stylish And Unique Fried Appetizers For Events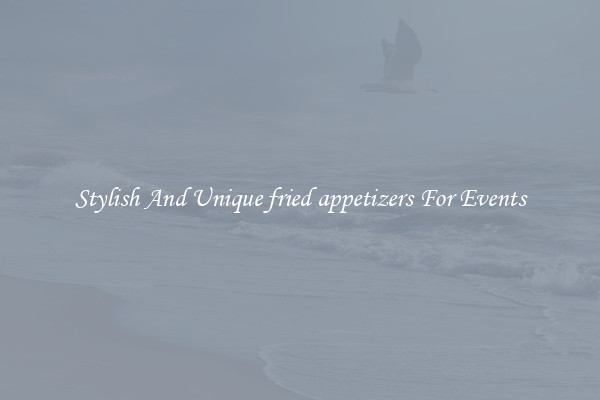 When it comes to hosting events, one of the biggest challenges can be finding delicious and unique appetizers to impress your guests. Fried appetizers are always a hit, providing a satisfying crunch and a burst of flavor. If you're looking for some stylish and unique fried appetizer ideas, we've got you covered.
1. Fried Mac and Cheese Balls:
Take the classic comfort food a step further by transforming it into a bite-sized snack. Prepare mac and cheese as usual, let it cool, and then roll it into small balls. Coat the balls in seasoned breadcrumbs and deep fry until golden brown. Serve them with a tangy dip for a perfect finger food option.
2. Sweet Potato Fries:
Upgrade the traditional fries by using sweet potatoes instead of regular potatoes. Slice them into thin strips, season with spices like paprika and cinnamon, and deep fry until crispy. The natural sweetness of the potatoes combined with the spices creates a unique and tasty appetizer. Serve with a spicy mayo or aioli as a dipping sauce.
3. Fried Ravioli:
Transform stuffed pasta into a crispy and delicious finger food option. Take store-bought or homemade ravioli and coat them in breadcrumbs seasoned with Italian herbs. Deep fry until golden brown and serve with marinara sauce for dipping. This appetizer combines the best of both worlds - a crispy exterior and a flavorful, cheesy filling.
4. Fried Pickles:
Pickles aren't just for sandwiches. Coat dill pickle slices in a mixture of flour, spices, and buttermilk, and deep fry until crispy. The result is a tangy and crunchy appetizer that pairs perfectly with a creamy ranch dipping sauce. This unique fried option will surely surprise and delight your guests.
5. Tempura Vegetables:
For those looking for a lighter and healthier option, tempura vegetables are the way to go. Dip a variety of vegetables such as zucchini, broccoli, and sweet potatoes in a light tempura batter and fry until golden and crisp. Serve with a soy-based dipping sauce for an appetizer that is both fresh and flavorful.
6. Fried Cauliflower Bites:
Cauliflower has been having a moment in the culinary world, so why not transform it into a delicious appetizer? Cut cauliflower into bite-sized florets and coat them in a seasoned batter made with flour, paprika, and garlic powder. Fry until golden brown and serve with a tangy dipping sauce. These crispy and flavorful bites will make even the pickiest eaters fall in love with cauliflower.
Conclusion:
If you're hosting an event and want to impress your guests with stylish and unique appetizers, fried options are always a great choice. From fried mac and cheese balls to sweet potato fries, there are numerous options to choose from. These tasty bites are sure to be a hit and will keep your guests coming back for more. So, get frying and enjoy these delicious and creative appetizers at your next event.